At RopeSteer.com we create roping tools that aid in proper training to develop correct form
RopeSteer has been in business since 2010 and we have shipped our products to every state in the nation (including Puerto Rico). All of our products were developed to specifically address an issue with these roping and equine products. Thanks for taking a look.
Vegas Team Roping Dummy In Stock $399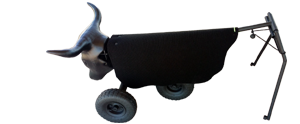 Engineered to be a roping tool that will sharpen your skills. Horns are angled forward so that you keep your tip down. Legs are wide and low so that you put the bottom strand of your rope on the ground & push the tip all the way through.
From the angle of the horns and height of the head to the width of the low legs, this roping dummy forces you to rope correctly.
This is the only ground dummy specifically designed to enhance your skills and not hurt your roping. Other products have horns as high as your hip causing you to flatten out your swing instead of allowing you to keep your tip down. Likewise, dummies with short, high narrow legs allow you to catch them without any control of the tip or bottom strand of your rope. The Vegas dummy is the absolute best and we are sure you will agree!
---
Cheyenne Team Roping Dummy In Stock $1,499
This roping dummy was engineered to be a roping tool that will improve your skills and aid in the development of proper form. From the angle of the horns and height of the head to the width of the low legs, this roping dummy forces you to rope correctly. Full size roping dummy designed to be pulled and roped from a horse.
Specifications:
1 Legs – 24″ Wide and 6″ off the ground
2 Attach multiple heads (Steer head w/ 24″ horn span, calf, Heel-o-matic)
3 Removable body (50″ nose to tail)
4 Tunes up your horse quickly
5 Fine-tune your position & delivery
6 Corner at high speed with realistic feel
7 Pulls effortlessly with any size quad or even by hand
8 Realistic hide feel
9 Perfect your skills
10 Teaches a horse to track a steer
---
Reno Dummy Horse In Stock $549
Stop creating bad habits. If it does not help, it hurts!
Nothing like practicing in your saddle. Stop taking a step forward when practicing from the ground.
Keep your thumb and practice your dally. The more you practice the better your odds.
Train with the correct angles. When heeling from the ground you typically have less rope in your hands along with a shallow delivery
Simulates a 15h rope horse
Great for teaching kids – Now you can work on developing proper form and technique
Perfect for team roping instructors / trainers
Nearly any 55 gal drum or 55 gal plastic barrel will work with this frame
---
PocketPanels Portable Horse Panels In Stock $699
3 Rail Galvanized Portable Horse Corral Panels $699 (Set of 4 panels)
(Each panel has over 40 feet of steel tubing)
Set up in seconds w/ one person!
Compact, easy to carry and extremely durable.
Designed to keep its square shape.
Narrow rails so your horse won't get their head through or stuck!
Every panel is also a gate! (Open either side)
This is a freestanding portable horse corral with no need to attach it to your trailer.
Water buckets and feeders fit and hang nicely without a need for special accessories.
Complete and ready to use.
Each panel weighs about 20 lbs.
Creates a 10'x10′ stall. Connect multiple stalls together to create custom configurations like a 10'x20′ or 20'x20′ stall / corral.
Dimensions: Collapsed 5′ x 4′ x 1″ Expanded 10′ x 4′ x 1″.
---
Hours – Monday – Thursday 8am – 5pm & Friday 8am – 12pm
Phone – Number (480) 442-ROPE
Email – RopeSteer@gmail.com
Admin Office – 815 W Daniel Rd., San Tan Valley AZ 85143